One of UK's top female finance executives, Helena Morrissey spent 15 years as CEO of Newton Investment Management and is currently head of personal investing at Legal and General Investment Management.
In 2010, she found the 30% Club – an initiative to have more gender-equal representation on company boards by ensuring that at least 30% of members are female. Started in England, chapters have now formed in other countries including Canada. Morrissey's efforts to bring about more gender equality in the workplace led to her being appointed Dame Commander of the Order of the British Empire in 2017 for services to diversity in financial services.
Oh, and we forgot to mention that Morrissey has accomplished all of this while being a mother of nine!
Earlier this year, she added author to her impressive resume releasing her first book, A Good Time to be a Girl: Don't Lean In, Change the System. She spoke with Go Magazine about embracing change, taking risks and how improving equality can help organizations attract and develop the best talent.
GO MAGAZINE: You've had a remarkable career. What advice do you share with others looking to move forward in their career?
HELENA MORRISSEY: I think that we women often focus too much on what might go wrong and on what others might think of us. Instead, I encourage you to focus instead on what might go right! Think big, start small perhaps, but start now. Don't let the fear of failure stop you from embarking on an exciting venture.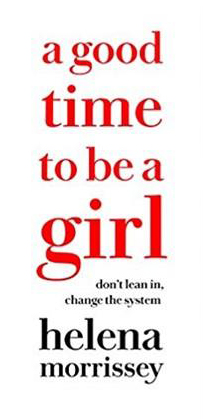 What motivated you to write A Good Time to be a Girl? Why was now a good time in your career to release a book?
It was less about being a good time in my own career, and more about trying to seize the moment that we have to achieve a real breakthrough in gender equality. I've worked in a male-dominated sector for 30 years and also been involved in diversity initiatives for a long time, so I've seen both discouraging and encouraging episodes. But it's only now that I believe the zeitgeist is right and that we have the enablers to make that big push forwards.  The scandals, the glaring gender pay gaps – these are the death throes of an old regime, not reasons to be despondent.
All our efforts to date – and those of so many generations before – have been leading up to this point. But to make real progress from here, we need to look at gender equality through a different lens. No more special initiatives, and no "leaning in" to old-fashioned ways of working that run the risk of perpetuating the regime we need to change. I wrote the book to suggest a different approach, one that involves working with men to create new systems of work, to share family life, to shake things up more radically.
Who do you think should read A Good Time to be a Girl? What would you like readers – both female and male – to take away from the book?
It's for anyone who cares about gender equality, has an open mind about how we achieve it and wants to play their part. I hope it will encourage young girls and career women, but the book is also for men who want to think about the issue in a more nuanced way than it might have been presented before. The system changes I am advocating won't just benefit women – I believe that many men feel straitjacketed by societal expectations about their own role and by creating more career opportunities for women, men will have more choices too.
In your book, you wrote, "So I'm telling you to take some risks, to experiment and to stretch yourself. That may make you feel uneasy." Can you tell us more about this?
How else can we grow if we don't take risks and stretch ourselves? I fear that many more people end up regretting not trying something than trying and falling short. I reverse the usual advice and suggest more of us should "leap before we look" because otherwise we spend so long looking we don't end up leaping! I'm just an ordinary girl from an ordinary background, not especially talented or brilliant in any way. But I have taken risks and experienced how fulfilling it can be when the rewards are there and learned too that while failure can be hard, dealing with defeat or disappointment is one of the most important lessons for the next challenge.
What led to you founding the 30% Club? How would you like to see it continue to evolve?
I had been running a women's development network for years and although the events we held were always judged "inspiring", they didn't seem to inspire anyone to actually do anything differently and there was little progress in the number of women at the top. After the financial crisis, there was a realization that having just one "type" of person on boards couldn't possibly be the optimal team and that presented a moment to seize a narrower version of the opportunity I see today. I realized that women talking to women about women's issues was never really going to get us very far (at least in terms of promotion) – the key was to involve men more. When the 30% Club launched in 2010, 99 of the FTSE [Financial Times Stock Exchange] 100 chairmen were men. They are now members of the 30% Club and their involvement made all the difference because suddenly the issue was everyone's issue, not a women's special interest topic.
We have gone from having 12.5% women on FTSE 100 boards to 28.9% today – and although it's definitely unfinished business, that really was an amazing breakthrough after decades of glacial progress. I learned we don't have to extrapolate a disappointing pace of change and that a combination of timing and the right approach can really achieve something quite quickly. It has been exciting.
There are now ten 30% Clubs throughout the world, in very different countries with distinct cultures and challenges. The basic tenets are men and women working together, with targets (but not quotas) so we can measure progress and efforts from schoolroom to boardroom. No stone can be left unturned.
In a blog post you wrote, "When we invest in women's success, we are investing in the success of businesses." Can you please elaborate on this?
It has become clear that gender equality is not just a "nice to have" issue or about political correctness, it's about having the best run companies, the highest possible economic growth, the happiest workers and prospects for countries, companies and individuals. I do believe this view is gathering momentum, that the next generation of young men and women expect very different things from life and we have a need as well as the opportunity to improve equality so we attract and develop the best talent.
What excites you about the world of business going forward?
Change fazes lots of people, but I think it's a very interesting time. We have complex problems, but the best companies are really dynamic. I think for many years big businesses got quite disconnected from society and that's going to have to change.
Did you last purchase online or through an insurance broker in person? Is there anything you'd like changed about insurance?
I did a bit of both. I have one policy for my home that simply renews once I've informed the insurer about any changes since last year – it couldn't be easier. The other one is more around contents insurance and it's a bit more complicated, and that's done through a broker. Happily, the premium seems to come down a little each year, and the process now that it's been established is quite straightforward.
As for changes about insurance, I think a lot of us are a bit skeptical that if we make a claim we're bound to see a pretty automatic increase in our premium going forwards – it would be so useful to see how this information is factored in, particularly if the incident behind the claim is reasonably construed as a "one-off". I think sharing information on that process would help allay concerns.
You can follow Helena Morrissey on Twitter here. Her A Good Time to be a Girl: Don't Lean In, Change the System book came out earlier this year. Find out more info about it here.